Click on the "moon" button to switch Vivaldi Webmail to dark mode.
You can access your Vivaldi email account on webmail.vivaldi.net, where Webmail's Elastic (default) theme offers both light and dark versions.
Click on the moon icon at the bottom left corner of the page to switch to dark mode.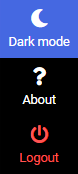 When dark mode is enabled, click on the sun to return to light mode.